Ilium Works Engine Guard Bar System or Crash Bars for the R1250RT.
1. Made from 1" dia. heavy wall steel tube, TIG welded and powder coated for years of trouble free service. Stronger than thinner wall stainless steel, with no strength reducing deformations to the tube contours.
2. 3/4" dia., powder coated, solid steel, cross bar tying the two sides together for increased rigidity.
3. All hardware is stainless steel.
4. These protection bars provides a solid foundation for mounting Highway Pegs and auxiliary lighting.
5. Designed to help protect vulnerable valve covers, cylinder heads, exhaust pipes and body work in the event that the bike goes down.
6. Does not have to be removed for routine servicing.
7. Covered by a 1 year warranty on workmanship and materials from time of purchase by original owner.
8. May not fit with aftermarket exhaust systems ie Akrapovic headers.
9. Also available in a Silver Metallic powder coat with a clear coat, Part# 34-200.
NOTE: If you have BMW Auxiliary LED Headlight with brackets, you will need our part# 30-250BL Auxiliary light Mounts. These allow the use of BMWs Auxiliary LED Headlights on R1250 RTW bikes fitted with Ilium Works Engine Guards.
30-250BL, Auxiliary Light Bracket SOLD SEPARATELY
Suggested Highway Pegs for these bars: 27-100BL or 30-400BL.
K1600GT / K1600GTL, HIGHWAY PEG / ENGINE GUARD SYSTEM
Ilium Works announces a significant development in BMW Highway Peg / Engine Guard Bar design for K1600GT / K1600GTL.
Our engine guard system consists of side bars made of 1" diameter, 1/8" thick heavy wall tubing that runs the full length of the engine. A 3/4" diameter solid steel cross bar ties the two sides together enclosing the engine in a sturdy cage with 6 points of attachment. All steel pieces are TIG welded and powder coated, all hardware is stainless steel.
This system is designed to be fully compatible with our highway peg system, with 3" of fore and aft adjustment to accommodate riders of differing in seam lengths.
These will work with stock OEM fog lights.
Part# 26-500, ENGINE GUARD BAR SYSTEM
Price $375.00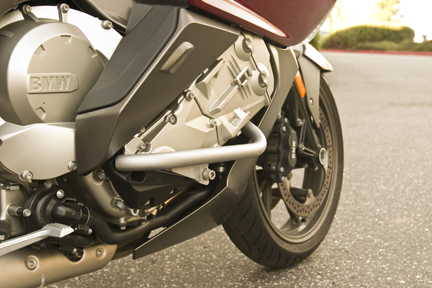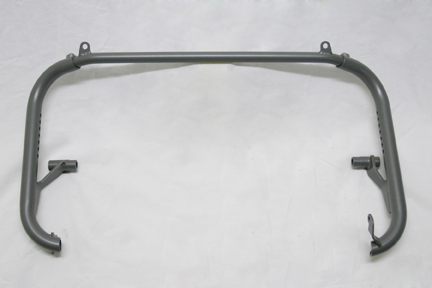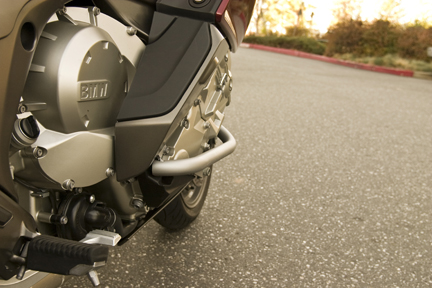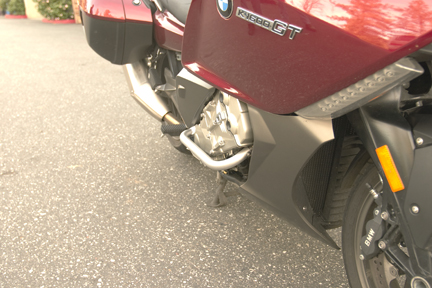 Part# 19-500, HIGHWAY PEGS FOR 26-500 ENGINE GUARD BAR SYSTEM
Price $259.00